NEW Childcare Offers 30 Hours FREE nursery and Tax-Free Childcare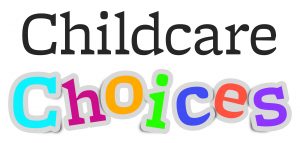 Parents of three and four year olds that are registered with Woodcroft Primary School's Nursery will be able to apply for the new 30 hours free childcare offer, worth around £5,000 per child to working parents.
Parents should register now for these new childcare offers, through the Government website www.childcarechoices.gov.uk.
Childcare Choices provides parents with a single point of information for all the government funded childcare offers, including:
30 hours free childcare
Tax free childcare.
There is also a website which helps parents and carers decide which would be the most beneficial option to choose when considering childcare   www.gov.uk/childcare-calculator
---
How to claim you Free Nursery Entitlement at Woodcroft
Step 1 – 15 hours: All pupils are entitled to 15 hours free provision per week.  This can be through a variety of flexible arrangements, for example: five 3 hour sessions per week, three five hour sessions per week or four 2 ½ hour sessions and one full day.
Step 2 – Top Up:  In addition to a child's 15 hours of free entitlement, Woodcroft Nursery is able to provide extra 'top-up' sessions charged at a rate of £16.50 per 3 hours (Please note: an additional 1/2 hour lunchtime supervision charge of £2.75 may need to be added for full day provision).
Step 3 – 30 Hours Eligibility: Working parents who meet the government's criteria can double their existing 15 hours and claim up to 30 hours hours Free nursery child care. Parents need to submit an online application before September to receive their eligibility code to provide to the school.
Step 4 – Eligibility Code: Parents provide their eligibility code to the school. We then register this with the local authority. Claims must be registered one term in advance. Pupils starting in September need to provide their codes to the school before the end of the summer term.
Flexible Provision Examples
We have prepared a helpful information sheet to outline some examples of how to use your entitlements – click on the image below or ask for a copy from our nursery.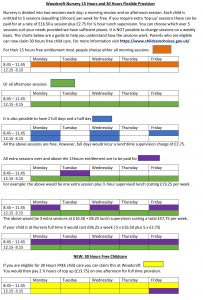 ---
Tax-Free Child Care
The introduction of the government's tax-free childcare scheme began on 28 April, for parents of the youngest children. It will be gradually rolled out over 2017, cutting childcare costs for working families across the UK by up to £2,000 per child per year, or £4,000 for disabled children.
---
Information Sheet
For more information please download the government information sheet below…