Computing Curriculum Information
The information on this page is strictly related to the National Curriculum subject of Computing. To discover more about Woodcroft's innovative approaches to technology across our entire curriculum, please visit our AIM@Digital pages or read the latest Digital News. We were accredited with the NAACE ICT Mark in July 2017.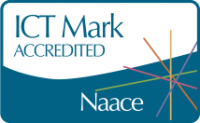 Curriculum Overview
At Woodcroft, we have adapted the 'Switched On Computing' scheme of work, as recommended by National Association of Advisors for Computers in Education (NAACE). Our Computing curriculum takes advantage of our Aim@ cross-curricular approach to learning.
This Computing Overview is adapted to meet our pupils needs on an ongoing basis.
Curriculum Delivery
Our pupils enjoy the use of a range of software and hardware resources when taking part in Computing.  They really enjoy using programming software to turn programming inputs into real-life action!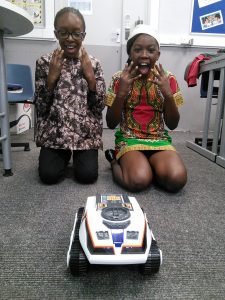 Programming Robots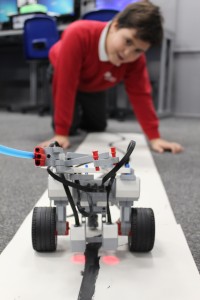 We use a wide range of devices to help create a digital record of our work, with an emphasis on creating and sharing digital content in a variety of media. Content creation could be facilitated through the use of digital cameras, webcams, microphones, camera phones, laptops or chromebooks.  Woodcroft pupils enjoy creating web pages, audio or video recordings, shared documents and slideshows, or through publishing photographs of our work on our Virtual Learning Environment (VLE), which we know as the 'Treehouse'
By following the 'We are…' theme of the 'Switched On Computing' scheme of work, Woodcroft pupils can begin to understand the real-world applications of the computing skills they are learning at school. By publishing their creations online pupils receive regular feedback from their peers which encourages greater levels of engagement with the Computing curriculum.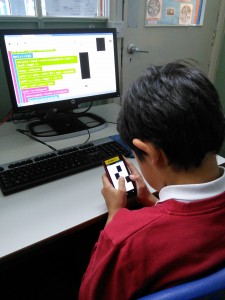 Creating Apps
Every child receives one session per week in our new, state-of-the-art Computing Suite, as well as additional opportunities to access technology in their classrooms throughout all subject areas.
Cross-Curricular Integration
Also, we use technology to enrich the learning experience for all.  This could be through fully immersive experiences in the 'Tardis' (our 4D immersive suite); by actively involving learners in lessons using interactive whiteboards which are situated in every classroom; by encouraging pupils to apply skills they learnt as part of computing units of work in other areas of the curriculum (creating a video presentation or web page); or through using high-tech stage lighting and sound to bring dramatic performances to life.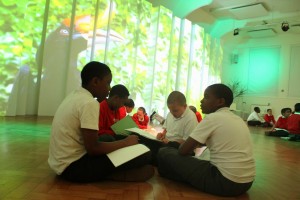 Immersive suite
Whatever way our pupils use technology to deliver, or record, their learning to a wider audience, they always enjoy revisiting their learning on the Treehouse.  Nothing makes our pupils prouder than showing your parents a positive comment left by their class teacher, or even the Headteacher!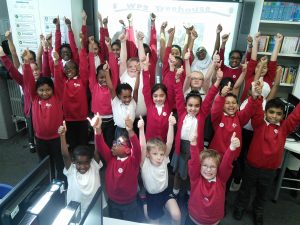 The 'Treehouse Keepers'
Digital Wisdom
We are committed to developing the 'digital wisdom' of our pupils in order to prepare them for life in an increasingly digital world.  Our curriculum has a strong focus teaching pupils how to use technology safely and responsibly, and this premise is used to deliver teaching of technical skills and understanding of how technology is used, as well as the ability to apply the use of technology in contexts which our pupils can relate with. With all these elements combined we aim to develop 'digital wise' learners for a digital age.
NAACE defines digital wisdom as comprising the following elements: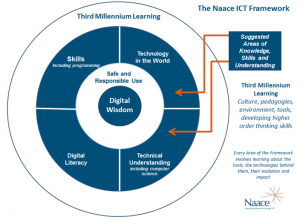 Useful Documents
Computing Policies and Guidelines
Visit a curriculum subject page by clicking the link listed below:
English   Mathematics   Science   Computing   Physical Education   Music   History   Geography   Spanish   Design and Technology   Art and Design   Religious Education