Computing Curriculum Information
The information on this page is strictly related to the National Curriculum subject of Computing. To discover more about Woodcroft's innovative approaches to technology across our entire curriculum, please visit our AIM@Digital pages. We were accredited with the NAACE ICT Mark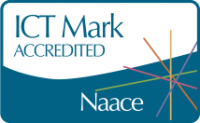 Rationale
At Woodcroft, we follow the Computing programme of study outlined in the National Curriculum, supported within the framework provided by Chris Quigley's Essentials Curriculum. The aim of our curriculum is to ensure all pupils:
Have competence in coding for a variety of practical and inventive purposes, including the application of ideas within other subjects.

The ability to connect with others safely and respectfully, understanding the need to act within the law and with moral and ethical integrity.

An understanding of the connected nature of devices.

The ability to communicate ideas well by using applications and devices throughout the curriculum.

The ability to collect, organise and manipulate data effectively.
Curriculum unit organisation
Whole-school blocked learning sequences are planned for Computing. Each year group then plans how to integrate Communicate, Collect and Connect threshold concepts into other curriculum areas, as well as when they will deliver the Code threshold concept learning sequence throughout the academic year. These are  mapped in the Woodcroft Curriculum Scope.
Threshold Concepts (KS1 & KS2)
Learning sequences are divided into four Threshold Concepts which are planned to develop vocabulary and skills throughout Milestones 1 to 3.
Threshold Concept
Delivered
Communicate

This concept involves using a range of digital media, applications and computing devices  to communicate one's ideas.

Integrated into another curriculum area e.g. English writing, Science, Geography, History, PSHE or Art etc. 

Collect

This concept involves developing an understanding of databases and their uses.

Integrated into another curriculum area where data is generated e.g. Maths, Science, DT etc.

Connect

This concept involves developing an understanding of how to safely connect with others.

Concepts will be covered via Milestone PSHE assembly programme and supported with class-based learning sequences.

Code

This concept involves developing an understanding of instructions, logic and sequences.

Concepts taught via

Computer Science Fundamentals, the Code.org curriculum

, courses A – F.
Early Years
Woodcroft pupils begin to familiarise themselves with computational thinking concepts prior to beginning National Curriculum. We use six modules from Barefoot Computing.
Woodcroft Reception Curriculum Overview (Link to be added)
Progression of skills
To ensure teachers consolidate the children's prior learning and knowledge, teachers use the Computing Overview (Concept & Knowledge Progression) 2022-2023 which clearly identifies the progression of skills across KS1 and KS2.
How are lessons sequenced?
Teachers plan a block learning sequence  by first considering the intended outcome – what do the children need to know  (or be able to do) at the end of the topic? 
Teachers then design an end of unit assessment task that will act as proof of progress or learning. The task will inform the direction of learning as the sequence will be planned so the children are able to independently achieve success in the pop task. Within a sequence of lessons, teachers will build in opportunities for vocabulary building, reading, scientific enquiry, quiz questions, modelling, guided practise and memory retrieval.
What do Computing lessons at Woodcroft look like?
The structure of Computing lessons will vary based on the topic, year group and the individual needs of the children in the class.  However, effective Computing lessons will include:
Fluency reading

Key vocabulary 

Reference to prior knowledge

Input of new information

Guided practise and independent practise

Address misconceptions / preconceptions 

Cumulative knowledge quizzing
Curriculum resources
At Woodcroft we utilise a range of different teaching resources to support our Computing curriculum:
Key documents and references
Computing (Communicate) Blocked Learning Sequence – link to be added

Computing (Collect) Blocked Learning Sequence 

– link to be added

Computing (Connect) Blocked Learning Sequence – link to be added

Woodcroft Reception Curriculum Overview – link to be added
Visit a curriculum subject page by clicking the link listed below:
English   Mathematics   Science   Computing   Physical Education   Music   History   Geography   Spanish   Design and Technology   Art and Design   Religious Education