What does "Family Support" look like at Woodcroft School?
All staff at Woodcroft have the welfare of the children and families at the heart of their work..
Jill Smith our Family Support Coordinator works at Woodcroft on a Wednesday and is contactable via email : jsmith1@woodcroft.barnet.sch.uk or telephone 079 44 167 353.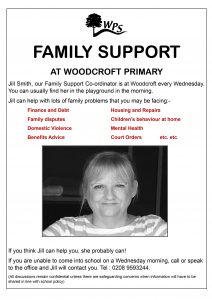 What support do families receive?
Jill will meet with the parents to discuss what help they think they need. This helps to identify what action needs to be taken. Then Jill works with outside agencies to help coordinate support. Examples of types of help offered include:
Inter family relationships

Domestic Violence

Anti Social Behaviour

Housing

Funding applications

Liaison with education providers

Family Disputes

Bereavement

Mental Health

and

Physical Health

Immigration matters

Benefits

Drug and Alcohol misuse

Attendance

Children/Siblings with SEN

Parents with disability
All discussions are confidential, however if any safeguarding concerns are raised during discussions, these have to be shared, in line with the school's Safeguarding policy.
Some interventions can be swift and bring about good outcomes. However, on occasion, more in depth assessments may be required – formally known as an "Early Help Assessment" – this assessment helps Jill to co-ordinate two or more external services. All cases are handled very sensitively.
_______________________________________ _________________________________
Cost of Living Crisis
We have collated a range of support services and help pages that may be of help to families during the current cost of living crisis. Click below to visit our dedicated web page here:
_________________________________________________________________________
Community Help Hub – working together to support our communities
Community groups across our borough are pulling together in an unprecedented way to support people during difficult times.
To ensure that they are able to coordinate all our efforts effectively, Barnet Council is working with the Barnet Together partnership, and a task force of charities, faith groups and businesses to support residents. The have set up this Community Help Hub to create a network of local support that will help our communities.
Visit https://engage.barnet.gov.uk/communityhelphub
---
Little Oaks – Pre School Group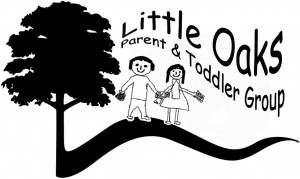 Little Oaks is our pre-school Parent and Toddler Group running every Thursday during term time.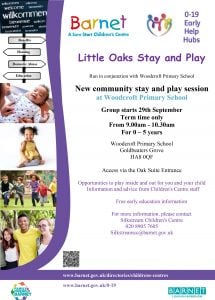 ---
Domestic Abuse
---
Support with dealing with Anxiety
During challenging times the welfare and wellbeing of our children is a top priority. Here are some good links to help with understanding and how to support children who are displaying anxiety or worries:
https://youngminds.org.uk/media/2957/top-ten-tips-poster.pdf   (for teachers/parents)
https://www.annafreud.org/media/11160/supporting-schools-and-colleges.pdf  (teacher support)
https://www.childline.org.uk/toolbox/calm-zone/ (children)
https://www.priorygroup.com/media/594863/understanding-childhood-anxiety-v1.jpg (parents/children)
You may also be interested in these strategies to support with dealing with Anxiety:
https://youtu.be/NAldSdx-jps – Hand and start breathing exercise
https://youtu.be/e6z6TJ1wQDM – rhythm and butterfly breathing
https://youtu.be/5Q-EoWSJQJg – externalising worries through use of worry dolls/plaques
https://youtu.be/FbhUxg9eHDE – muscle tensing and releasing tool