Curriculum Information
The information on this page relates to Woodcroft's excellent provision for National Curriculum Music.
Woodcroft is committed to providing an enriched Arts education for all pupils and to embed Music into the wider Arts and National Curriculum based topics.
Pupils are offered an Arts programme of outstanding opportunity that extends far beyond the National Curriculum.  This is achieved by integrating the curriculum subject areas through our innovative AIM@programmes.

Award Winning Music at Woodcroft Primary School
Music Teacher Awards
We were delighted to celebrate in 2015-16 that Woodcroft was awarded the Best School Music Department Award at the Music Teacher Awards for Excellence!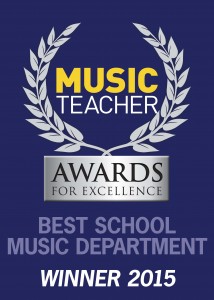 Music Excellence Award Winners 2015
Woodcroft Music Award Press Release
The pupils, staff and governors at Woodcroft are proud that our commitment to the Arts has been recognised. Well done to all of the schools in our category. Read about Woodcroft at the Awards by clicking here.
Music for every child
Every child at Woodcroft Primary School engages in quality music education from their entry into Nursery until the end of KS2 in Year 6.  In the early Years, music is incorporated consistently into daily routines and is used to enhance teaching of the core curriculum in addition to being taught as a stand-alone subject.  In KS1 and KS2, pupils participate in weekly music assemblies and a one hour curriculum music lesson with a Music specialist teacher.

Useful Documents
Click on the links below to view our Music Curriculum Outline and to read our bi-annual Music Matters news report that covers our approach and provision at Woodcroft. Also read our AIM@Arts pages for further information.
Opportunities for enriched musical learning
Woodcroft Primary School works closely with our local Music Hub, Barnet Education Arts Trust (BEAT),  to provide quality and engaging learning experiences. This professional programme begins in Year 2 with whole class drumming workshops. Every child in Year 3 then learns a musical instrument with professional tutors.  This learning is extended throughout Key Stage 2, with every pupil provided the opportunity to learn an orchestral instrument in Years 4, 5 and 6.  Woodcroft offers subsidised and free tuition using the Pupil Premium funding.
In addition to our work with the Barnet Education Arts Trust, we also run a large number of ensembles.  Currently on offer:
Young Woodcroft Singers (Years 1-3)
Woodcroft Senior Choir (Years 4-6)
Woodcroft String Ensemble (Advanced Ensemble Years 5 and 6)
Woodcroft Brass Consort (Y4 – 6)
Woodcroft Orchestra (Years 4-6)
Woodcroft Flute Choir (Years 5-6)
Ukulele Ensemble (Year 3)
The school strives to improve its opportunities for pupils to participate in extra-curricular musical activities. Over the past 4 years we have introduced over 30 clubs and ensembles. In addition, every pupil now performs to an audience at least once per term as part of our Arts Charter.
Aspiration and Inspiration
At Woodcroft, we believe that as part of providing a high quality musical education, pupils must be provided the opportunity to be inspired by professional musicians in a wide range of musical genres.  As such, we provide numerous opportunities throughout the academic year for pupils to work with professional musicians to improve their own practice and to attend live performances at world-class venues.  Pupils use these events to work with their teachers in reviewing their own learning and to self-evaluate their progression.  This work is part of AIM@Arts programme…click here for more information.
The Music Department
Miss C Sherring – Music Coordinator, Choirs Leader
Ms V Maclean – Violin Tutor
Mrs C Hooker – Cello Tutor
Mrs Helen Reeder – Brass
Mrs Sophie Boden – Woodwind Tutor
Mr R Hughes Mr A McAtominey – Ukulele Tutor
Miss R Blyth – String Ensembles Leader
Composers in Residence – Mr D Guest
A Musical Year at Woodcroft Primary
Infant Music Festival (October)
Autumn Concerts (November)
Carmen – Create and Sing with the Royal Opera House
Carols Recital (December)
KS1 and Foundation Stage Christmas Musicals (December)
String Orchestra Festival with local schools (February)
Woodcroft WOW Factor Talent (March)
Barnet Music Festival at Finchley Arts Depot (June)
Spring and Summer Term Concerts (March and July)
Proms at St Jude's – Music and Literary Festival
Year 6 Leavers' Musical (July)
Follow events on Twitter
Awards
Woodcroft is an ArtsMark Gold School and accredited Arts Award Assessment Centre.
Woodcroft won the award for Best School Music Department Award in the Music Teacher Awards for Excellence 2015.
Visit a curriculum subject page by clicking the link listed below:
English   Mathematics   Science   Computing   Physical Education   Music   History   Geography   Spanish   Design and Technology   Art and Design   Religious Education