Children born between 1st September 2019 and 31st August 2020 are eligible for a Nursery place at Woodcroft starting in September 2023.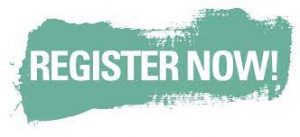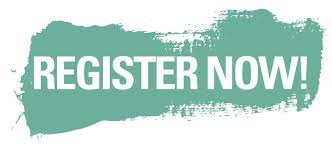 ADMISSIONS CRITERIA
The following criteria will apply to all admissions:-
Children for whom a Statement of Special Educational Needs has been made or is likely to be made and for whom the school has been named.
Other children whom the Chief Executive Officer accepts a medical, social or educational need that the school is particularly able to meet.
Children who have a brother or sister living at the same address, who already attends the school
Geographical location.
Nursery
All children who have had their 3rd birthday before 1st September are eligible for a place in Woodcroft Nursery.
At Woodcroft we endeavour to provide a flexible entitlement of 15 hours per week for every pupil.
Nursery Places are offered will be offered in the spring term prior to year of entry. The deadline for applications will be published on the website.
Applications for Nursery are made directly to the school.
In the spring term prior to entry all parent/carers will receive a letter offering a place. Confirmation that you wish to accept the place for your child must be received by the date stated on the letter. A reply slip is provided with the letter offering you a place.
An induction visit into school will then be arranged for all those wishing to accept a place in the Nursery.
Induction visits enable:
Staff and family to meet informally
Questions or concerns to be addressed
The staff to complete entry forms
Parents to receive additional information about the school
Starting dates to be confirmed
30 Hours Free Nursery Childcare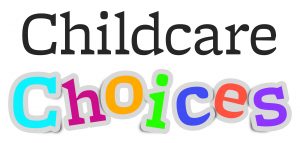 Parents of three and four year olds that are registered with Woodcroft Primary School's Nursery will be able to apply for the new 30 hours free childcare offer, worth around £5,000 per child to working parents.
Please click here for more information – 30 Hours Free Nursery at Woodcroft Primary
Flexible Nursery Entitlement (15 hours)
Nursery is considered to be a vital part of our Early Years provision. Woodcroft Nursery has a maximum capacity of 52 part-time places. Pupils are entitled to 15 hours free provision per week. Parents are consulted and we endeavour to match the needs of the family with an appropriate offer of provision. This can be through a variety of flexible arrangements. We have prepared a helpful information sheet to outline some examples – click on the image below or ask for a copy from our nursery.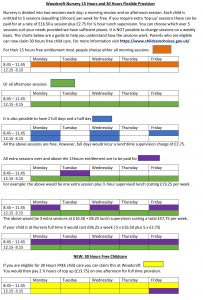 Additional 'Top-Up' Charged Sessions
In addition to a child's 15 hours of free entitlement, Woodcroft Nursery is able to provide extra 3 hour sessions of Nursery care at a rate of £16.50 (£5.50 per hour)
if you top-up session runs over a lunchtime period this would incur and additional £2.75 supervision cost (parents provide a packed lunch)
Starting Nursery
All parents/carers, and their children due to start nursery, are invited to an open day during the summer term prior to starting. The children get an opportunity to experience the nursery environment while parents speak with the nursery staff.
Parents are then invited to a 'new starters meeting'. At this meeting you will be given your child's starting dates for September. Prior to this your will attend an induction meeting with a member of nursery staff who will discuss with you about your child's needs. This takes place at during the first three weeks of September.
The Nursery runs flexible sessions throughout the day. Children who stay during lunchtime have a supervised packed lunch in our nursery.
The Nursery day is from:        8.45am to 3.15pm
Settling your child into school
For many young children school will be the first real experience away from their families outside the familiar settings of their home. We know all children are individuals and take different amounts of time to settle in. Our experienced staff will be on hand to discuss your concerns.