Expanding Worlds Curriculum

Rationale
At Woodcroft we believe literacy should be at the heart of the curriculum. As such, reading,  writing and oracy are systematically taught, not only in English lessons, but in every lesson.
We follow the English Programme of Study as set out in the National  Curriculum English programmes of study: key stages 1 and 2 – GOV.UK .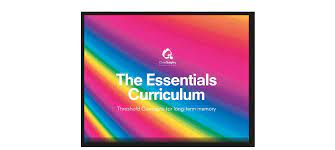 We deliver the programmes of study through the Essentials Curriculum. The aim of our curriculum is:
To develop the ability to

write fluently and with interesting detail on a number of topics throughout the curriculum.

To produce well

–

organised, structured and grammatically correct writing, which includes a variety of sentence structures.

To read with fluency and accuracy

across a wide range of contexts throughout the curriculum.

To have an excellent comprehension of texts.

To speak audibly and fluently with an increasing command of Standard English.
The Essentials Curriculum identifies key threshold concepts that tie together the breadth of  knowledge pupils are required to study. These concepts can then be explored in a wide variety of different topics. Pupils will return to the same concepts repeatedly; gradually deepening understanding of English.
Threshold concepts for the English curriculum are divided into three Phases. We call these Milestones. 
Milestone 1 – Years 1 and 2
Milestone 2 – Years 3 and 4
Milestone 3 – Years 5 and 6
Our curriculum is specified according to each milestone:
Curriculum Organisation
Reading
Our approach to teaching reading follows the best evidence from the latest research.
Reading is a complex skill that involves the integration of several cognitive processes, including phonemic awareness (the ability to manipulate and identify individual sounds in spoken words), phonics (the relationship between sounds and written letters), fluency (the ability to read smoothly and accurately), vocabulary (word meanings), and comprehension (the ability to understand the meaning of what is being read).
Phonemic awareness:

This refers to the ability to manipulate and identify individual sounds (phonemes) in spoken words. This is an important foundation for learning to read and write, as it helps children to understand that spoken words are made up of individual sounds.

Phonics:

This refers to the relationship between sounds and written letters. Children who have secure phonics knowledge are able to automatically match the sounds of our spoken language to written letters and letter combinations. This enables children to decode (sound out) and encode (spell) unfamiliar words.

Fluency:

This refers to the ability to read smoothly and accurately, with appropriate pacing and expression.

Vocabulary:

This refers to the knowledge of words and their meanings. A wide vocabulary is important for reading comprehension, as it helps readers to understand the meaning of unfamiliar words.

Comprehension:

This refers to the ability to understand the meaning of what is being read. Good comprehension involves being able to make connections between new information and prior knowledge, and to draw inferences from the text. It is largely dependent on the child's reading fluency, background knowledge and vocabulary.
The Fantastic Four – Structured Literacy Approach to Reading
At Woodcroft we apply the science of reading through our 'Fantastic 4' structured literacy approach. This consists of four whole class reading routines.
Fluency Reading across the curriculum

Close Reading for comprehension

Extended Reading from our literature programme

Word Study inc. vocabulary development and systematic synthetic phonics
These strategies are supported by:
Independent reading both in school and at home

Targeted guided reading intervention groups
The Reading Rainbow Curriculum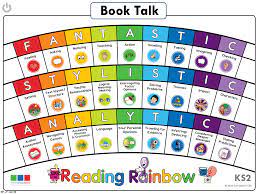 The Reading (and Writing) Rainbows act as a curriculum structure for pupils to develop their language rich knowledge.
When we read a text in detail, we choose a lens to focus our thoughts. A lens a tool to view any information – it is a way of looking. There are 27 lenses in our Reading Rainbow (8 are shared with The Writing Rainbow – see below).
Experienced readers will 'automatically' use multiple lenses at once. However, pupils learning to read need to practise using one (possibly two) a time.
Each lens acts like a piece of the reading comprehension jigsaw. The more practice we have, the more automatic their use becomes, and the more complete our comprehension jigsaw puzzle will become when we read. 
Phonics
Phonics is the foundation of our early reading programme. At Woodcroft we follow the Sounds-Write scheme. Systematic synthetic phonics is taught through structured lessons throughout Reception and Key Stage 1. These lessons are taught daily and consist of direct teaching with children then practising their knowledge and skills under close supervision. 

The phonics programme is carefully sequenced.
Term 1
Term 2
Term 3
Nursery

Identifying sounds; recognising own names and other symbols

Reception

Initial Code, 

Units 1 – 7

Initial Code, 

Units 8 – 11

Revision of Initial Code

Introduction to Extended Code (Units 1 – 3)

Year 1

Extended Code, Units 1 – 10

Extended Code, Units 11 – 20

Extended Code, Units 21 – 30

Year 2

Extended Code, Units 31 – 40

Extended Code, Units 41 – 50

Polysyllabic words: compound, 2 syllable words, simple 3 syllable words
Reading Book Spine
Reading aloud every day to the whole class is a teacher's priority. We carefully select the books we read in order to study a range of high quality, diverse, modern and classic fiction. Our 'Reading Spine' is an agreed set of books that are read to the children as a whole class and can also be used to stimulate writing:
Every lesson will contain an element of reading. This can be from a fiction book, a non-fiction book or a piece the teacher has written themselves. This is repeated over the course of the unit in order to increase fluency.
In addition, each curriculum unit has linked texts and explicit vocabulary lists. These are described as our core books.
Writing
We follow The Write Stuff curriculum for teaching writing. The two overarching principles of this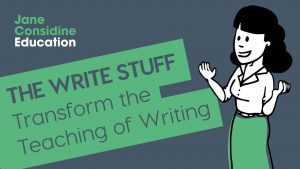 scheme are the provision of language rich experiences and a rigorous focus on sentence construction. Grammar techniques and creativity are embedded in every lesson under the curriculum framework of the Writing Rainbow: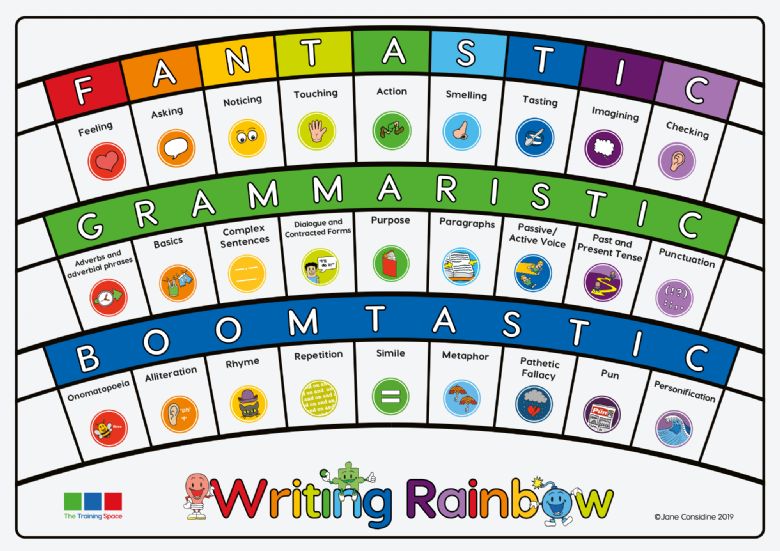 "The Write Stuff" by Jane Considine systematically builds the knowledge and skills required to be great writers.  It follows a strategy called "Sentence Stacking". This refers to a method of studying individual sentences in detail and then, over a unit of work, stacking them together to create a complete piece of writing.
The Write Stuff curriculum is organised into three zones of writing; ideas (fantastics), tools (grammaristics) and techniques (boomtastics). Each zone contains nine elements (or lenses). Through the teaching of all of these elements the pupils at Woodcroft gain a broad range of knowledge and skills required to be great writers.
Each unit of work is stimulated by the reading of quality texts. At the end of each unit, an extended piece of independent writing is produced which includes the writing features that have been studied.
Spelling and Grammar
In the Early Years and Milestone 1, spelling is taught through the Sounds-Write scheme (see above). This continues to be reinforced through our phonics based polysyllabic spelling programme in KS2. 
Grammar is taught explicitly in English lessons, and immediately put into practice through sentence construction. It is reinforced through continued repetition and the expectation that writing should be grammatically correct.
Vocabulary
Each lesson, right across the curriculum, starts with an introduction to the vocabulary needed. Technical and specialist vocabulary is specified for each curriculum unit. Definitions are provided, examples of the words used in context, and the etymology and morphology of words are also often discussed.
Speaking and Listening
The aims and threshold concepts for speaking and listening apply to all years from Year 1 through to Year 6. These are broken down more specifically within milestones:
Pupils are given many opportunities to speak and to listen to others: pairs, small group and whole class discussions. Questions range from asking for specific answers, particularly recall of knowledge, to more open-ended questions where opinions or explanations are sought. The expectation is that children answer in complete, grammatically correct sentences, following the model set by staff. Opportunities for developing fluency in speech are given in every lesson.
Writing Curriculum Progression and Assessment
Teachers plan learning sequences, using The Write Stuff as a guide, to identify the final outcome of the unit and which particular grammatical and literary features will be included. Skills and knowledge are built on over each milestone so that the pupils' writing becomes increasingly more detailed and sophisticated. 
Proof of Progress (POP) tasks are based on the learning expectations of each milestone. Assessments are made using these independent tasks that children complete at the end of each unit of work. 
Year 2 and Year 6 also undertake statutory assessments in writing, reading, grammar and spelling.
What does an English lesson at Woodcroft look like?
The structure of an English (writing) lesson will vary somewhat based on the age of the class and context of work. However, an effective English lesson will include:
A 'retrieval quiz,' checking knowledge and understanding of terminology or concepts taught in previous lessons.

Specific teaching of vocabulary: definitions, its use in a context, and may include its etymology and morphology.

Reading from the text on which the unit of work is based, or from a prepared  example of what the teacher is aiming for in the independent task.

Modelling of sentence construction which will include specific grammatical or literary features.

Generating ideas and vocabulary. Pupils record these on their 'Thinking Side'.

Practising and refining sentences using specific features on the 'Writing Side' of their book.

Whole class feedback to address common misconceptions and errors

A recap of the skills and grammar taught during the lesson.
———————————————————-
Sounds-Write Phonics – Parent Course

If you would like to find out more about how we teach young children to read and write at Woodcroft and would like to help your child to grow in confidence then we recommend all parents of children in Reception and Year 1 complete the Sounds-Write Parents' course at the link here – SOUNDS-WRITE PARENTS' COURSE
​The course is made up of a number of short videos to watch which give parents the knowledge they need to help their child to develop into confident readers and writers.
Visit a curriculum subject page by clicking the link listed below:
English   Mathematics   Science   Computing   Physical Education   Music   History   Geography   Spanish   Design and Technology   Art and Design   Religious Education