Greg Sinclair: Artist Residency at Woodcroft

As part of Woodcroft's 2015-16 Collaborate Partnership with the Unicorn Theatre, award winning musician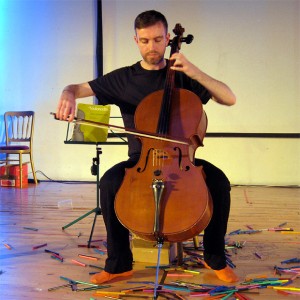 and performance artist Greg Sinclair joined the school for a 6 weeks artist residency project called 'All Ears' during the autumn term 2015.
Greg promised to leave a legacy of new ways to approach music within the school! He worked across every year group creating a range of music making and listening experiences; exploring different aspects of  listening and the types of music we can make to listen to?
The ' All Ears Project Journal' below follows the exciting and inspiring music making experiences we enjoyed during the residency. The journal takes you back through the project, beginning with the finale show and ending with the launch assembly.
'All Ears' Project Journal
Week 6: The Finale!
On Thursday 5th November the families of Year 4 pupils were invited to a very special showcase performance of the All Ears project. The audience were treated to a feast of music and movement that included bicycles, basketballs, ukuleles, space-hoppers and balloons to name a few! This show was the culmination of our six week Unicorn Theatre collaboration project with Greg. It has involved the entire school from Reception to Year 6. At the end of the show we had to say a sad goodbye to Greg and thanked him for the work he has done while at Woodcroft.
Week 5: Special Tasks – Dance, Visual Art, Music, Movement and Film Making
The whole school came together on the final Friday of half term for a raucously fun assembly inspired by resident artist, Greg Sinclair. As part of the 'All Ears' project Greg asked each class to set a creative challenge for the next group;
Logged in users can visit the Treehouse (our VLE) to watch the films created by the classes and shown in assembly. Click here to go to the All Ears Treehouse page
Click here for Special Tasks Assembly Videos 
Week 3: Musical Pictures and Graphical Scores
Each group's mission 'should they wish to accept it' was to: work in partnership with another class, learn to understand visual representations of music, develop a themed graphical score, rehearse a composition involving 30 pupils and then perform it to an audience – oh, and they only had 2 hours! Take a look at some amazing images below from our groups working together during the week or view their Tree House videos clicking below (logged in users only)… 
Week 2: Sound Suits
What happens when you give a box of recycled objects and some old dressing costumes to a performance artist with a group of children? No one knows – but we are finding out this week…
Each day, two classes (one from KS1 or Reception and one from KS2) collaborated to make amazing costumes from freely available materials – take a look below at what they created. Also, if you are 'logged in' check out the Sound Suit catwalk videos clicking on the class titles below…
Week 1: The Launch
A listening assembly, Year 1 go on sound walk and an invisible orchestra is created in Year 4, silent walks and vibrations in Year 2 and invisible band in Y6. Just a few highlights from week 1!