Please note that we are currently updating all of the curriculum pages on the school website and so some subjects may contain more detailed information than others.  If you have any questions or require any further information, please contact school. Thank you
English Curriculum
In English we teach a broad curriculum covering reading, writing, grammar and oracy. We believe literacy should be at the heart of the curriculum. As such, reading and writing is systematically taught not only in English lessons but across the curriculum.
Writing 
We follow an approach to the teaching of writing called 'The Write Stuff'. This was implemented throughout school in 2021. The Write Stuff teaching sequences are based on two guiding principles; enriched experiences and a rigorous focus on sentence construction; lessons are broken into bite-sized chunks and taught under the structural framework of The Writing Rainbow. The knowledge and understanding of what and how to write (grammar, technique and creativity) is embedded into every lesson. This is then revisited again and again to ensure pupils have a deep and thorough grasp of the tools and structure of writing so they can be applied in all contexts.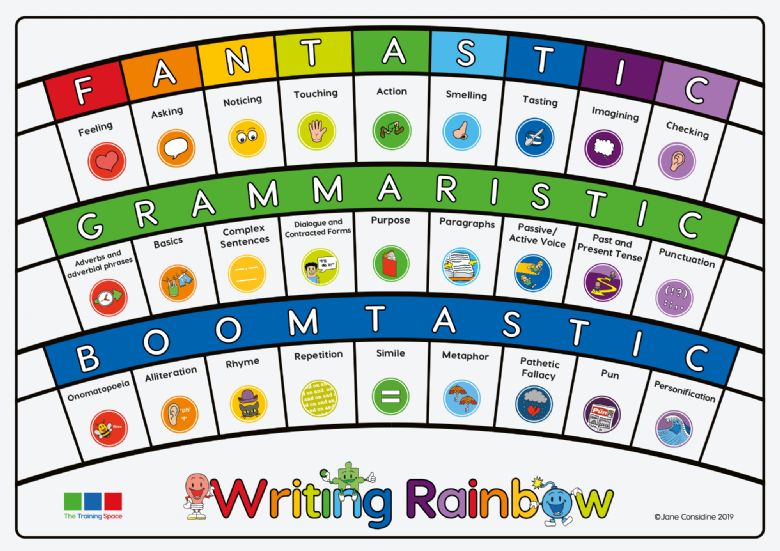 Reading
We have a comprehensive reading curriculum. high quality texts which are used throughout school that builds children's knowledge of literature and their reading ability in a structured way. We study a range of modern and classic fiction.
Our approach to the teaching of reading is guided by the latest research evidence. Key routines are designed to develop pupils' range of vocabulary, reading fluency and ability to interrogate texts.
Teachers read aloud to pupils on a daily basis. Children also read texts together as a whole class. Every curriculum unit has linked texts and explicit vocabulary lists. 
Phonics and spelling
We use the Sounds-Write phonics programme to ensure children develop their phonic skills in a coherent and systematic way. There is direct teaching of phonics using this programme from Early Years upwards.   Children who are still developing their phonic knowledge read phonically decodable books matched closely to the phonic knowledge they have acquired.  
As children become proficient with the alphabet code of phonics this continues to be reinforced through our polysyllabic spelling programme in KS2. 
Vocabulary
The meaning and spelling of  words is studied explicitly in every lesson and within every curriculum unit. This ensures our pupils develop the widest range of vocabulary.
Parent Support
Developing confident readers is our school priority so we greatly appreciate parental support in this area. Children will be given a reading book to take home each week and parents are encouraged to read aloud daily with their child. We strongly encourage parents to complete the free Sounds-Write course for parents of children aged 4 to 6 years. This will help to ensure the way that parents support their children at home matches the methods we use in school.
Sounds-Write Phonics Programme – Parent Course

If you would like to find out more about how we teach young children to read and write at Woodcroft and would like to help your child to grow in confidence then we recommend all parents of children in Reception and Year 1 complete the Sounds-Write Parents' course at the link here – SOUNDS-WRITE PARENTS' COURSE
​The course is made up of a number of short videos to watch which give parents the knowledge they need to help their child to develop into confident readers and writers.
Help at Home

Do you want some ideas of what books to encourage your child to read at home? Try out some of the website below by clicking on the links…
Little Parachutes…picture books for young children to help deal with life's challenges 
Lovereading4kids…helping you choose the best books for children
Book Trust…inspiring a love of reading
Britannica Online…Explore the updated online encyclopedia with thousands of articles, biographies, videos, images, and Web sites 
Fantastic Fiction…Bibliographies for over 30,000 authors, information on over 350,000 books
Visit a curriculum subject page by clicking the link listed below:
English   Mathematics   Science   Computing   Physical Education   Music   History   Geography   Spanish   Design and Technology   Art and Design   Religious Education