What a final week we have had at Woodcroft! There isn't a Woodcroft Weekly newsletter  today, so here is a photo diary of what we have been getting up to at school.
MONDAY: On Monday we woke up to snow! But that didn't stop us … we just went outside to make snowmen and have a snowball fight!
TUESDAY: Christmas parties began to take place, and Year 3 hosted their Egyptian Experience Day in our immersive suite that we call The Tardis.
WEDNESDAY: Wednesday was super busy. We started the day with the rescheduled Year 2 Christmas Show – and what a fabulous performance of The Sleepy Sheep we enjoyed..
Wednesday also saw a  wonderful celebration of dance at Woodcroft with performances from our Cheerleader Squad and Dance Team. Pupils were also surprised when our Staff Dance Crew treated the pupils to a special performance of their own routine.
We then heard the announcement that Recee and Lucia had come 1st and 2nd in the 'Great Big Dance Off' National Solo Competition for primary schools. They both then performed their amazing solo routines!
As if all this was not enough, Reception then hosted their own festive singalong for families to attend.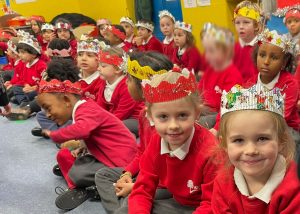 THURSDAY: On Thursday our fantastic staff performed two hilarious pantos followed by a visit from Santa who was bearing gifts for every class! KS1 and Reception were treated to a rather unusual version of The Twelve Days of Christmas …
This was followed by The KS2 Staff Panto, 'I'm Cinderella, Get Me Out Of Here!', where the naughty elves were at it again making the ugly sisters do a series of bushtucker trials to earn enough stars to go to the ball. Luckily, Prince Charming found the rightful owner of the glass slipper and lived happily ever after with Cinders.
FRIDAY: I think we all deserve a rest! Have a great Christmas and we will see you all again on January 4th 2023. Don't forget about our new earlier registration time of 8.45am.